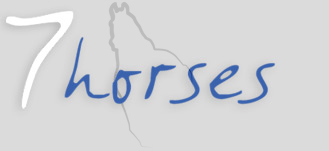 7 Horses emerged as a distinctive acoustic ensemble led by the talents of Joanne Filips and Phil "The General" Russo. Their journey began with intimate performances at local venues, but soon, they welcomed the rhythmic prowess of Buddy Braile into their ranks, elevating their sound to breathtaking heights. Based in the heart of New York, this resilient group weathered the storm of Hurricane Sandy, losing their home and possessions. Instead of succumbing to despair, they channeled this adversity into their art, dedicating a portion of their work to their beloved city and the resilient souls who tirelessly rebuilt the shoreline.

7 Horses weaves a tapestry of diverse musical styles, weaving evocative lyrics and melodies that navigate the complex terrain of life and love. Joanne, a prolific songwriter, takes the lead with her vocals and acoustic guitar. Phil adds depth with his mastery of lead, rhythm, and acoustic guitars, harmonizing beautifully in the background. Buddy, the rhythmic heartbeat of the group, infuses their music with infectious beats that demand your attention.

Their music defies convention, with unique chord progressions and distinctive rhythmic patterns, forging a sonic journey all their own. Hints of warm blues and captivating darkness permeate their sound, inviting listeners on a soul-searching adventure through emotive soundscapes. Their song "Scattered" achieved runner-up status in the "VH-1 Song of the Year Contest," earning them recognition as a must-listen artist. Their music resonates across various Internet radio stations, and their catalog is readily accessible for streaming or purchase through major online platforms.
In an era dominated by pre-looped and sampled compositions, 7 Horses stand as torchbearers of authentic, timeless music. Their craft possesses a rawness and purity that remains as captivating today as it will be a decade from now, a testament to their unwavering commitment to real music that has left an enduring impression upon our hearts for generations.

7 Horses is a Blue Pie Records USA artist for and is published by Blue Pie Publishing USA (ASCAP).